It's been so long since I updated this blog. My long hiatus was partly because I've been very busy working on Rose of Anzio Book 2, then Book 3 for release. Another reason was I kept trying to find time to write Part 3 of the Interventionists vs. Isolationists Blog series. I still haven't had time to write Part 3 because I needed time to pull all my research information together, and it's stopping me from sharing more blog posts.
So today, I decided to not let Part 3 be my barrier anymore. I'll get to it when I get to it. Meanwhile, I want to share with you some wonderful fan arts created by several very talented artists who are reading Rose of Anzio. I am so fortunate that these artists love the characters and were inspired to create illustrations of them. I am touched by what they have done. It is also very interesting for me to see what Anthony and Tessa look like in their imaginations.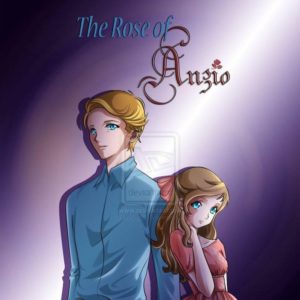 This first picture was made by manga artist Loreley. Loreley has an amazing eye for colors and I absolutely love the colors she used to create this picture. Here, we have a very cute Tessa as she appeared in Moonlight at age 15, in her favorite red dress. You can see more of Loreley's artwork here: http://loreley25.deviantart.com/gallery/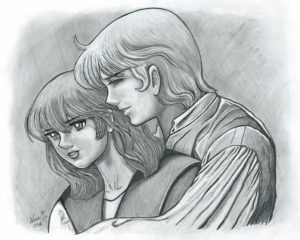 The second illustration was made by Nuria Marquez. This Anthony is so handsome, I can't stop looking at him. Tessa's eyes are full of her lively spirits. I love it. Nuria's artwork is displayed here: http://nmarquez72.deviantart.com/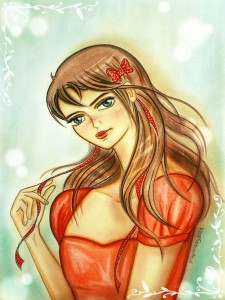 Last but not least, the third picture is by artist Elsa Papirous. Here, we have Tessa in her favorite red dress and the red polka-dot hair ribbon that Jack gave her. Elsa's drawings have a beautiful, somewhat abstract style that is all her own. I love being able to see Tessa through her eyes. Elsa's artwork is shown here: http://papirous.deviantart.com/
I hope you enjoy these. And if you have a moment, I am very curious to know what Anthony and Tessa look like to you. So please feel free to email me and let me know (alexa@alexakang.com), or drop me a note on my Facebook page.