Last year, I had the pleasure of working with the Altabe Studio on an anime and illustration project. When I began releasing the Rose of Anzio, I asked Altabe's lead designer, Christine Chong, if she might like to create a graphic novel depiction of a scene from Moonlight. She asked me to provide her a script of the scene.
At first, I had wanted to choose a romance scene between Anthony and Tessa. However, one of the early readers of Rose of Anzio suggested that the scene of Tessa and her parents would be interesting. The more I thought more about it, the more I liked the idea. The result is this wonderful two-page illustrated version of the scene of Tessa's departure from England in Chapter 7 of Moonlight. I was absolutely thrilled to see the result.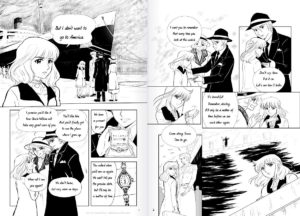 In creating this scene, Christine and I looked through many old photos of early 1940s fashion, as well as search for a real Bulova watch that was manufactured in that era.
Afterwards, I shared this with the subscribers to this site. One of the subscribers, Nuria Marquez, the artist who did the lovely pencil sketched fan art  of Tessa and Anthony, colored it. What she did was lovely!
I'm delighted to be able to share these with you. Hope you enjoy it.
You can follow the Altabe Studio on their Facebook page.