This area is dedic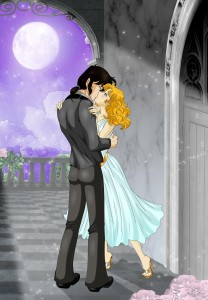 ated to fans of Candy Candy, a story created by Japanese writer and poet Keiko Nagita under the pen name Kyoko Mizuki in the 1970s, and for which she updated and wrote the Candy Candy Final Story novels in 2010. Back in the 1970s and early 1980s, Candy Candy was released in the form of manga, anime, and novels in Asia, South America, and parts of Europe. Today, it still has a worldwide following. It is the inspiration for the story Rose of Anzio.
Following the publication of the Candy Candy Final Story, I had written a fanfic as a tribute to the reunion of the story's main characters Candy White and Terry Grandchester. The fanfic, The One I Love Belongs to Somebody Else, mimics Nagita's poetic writing style and can be read here.
Since I finished The One I Love Belongs to Somebody Else, CC fans from other countries have translated this little story into French and Italian. The Italian version can be read here.
The image above is made by manga artist DarkVanessa. It depicts Candy and Terry in a  scene in  Chapter 27  in The One I Love.
Altabe Studio created an anime clip of the Epilogue of The One I Love for Candy and Terry fans to enjoy. (Finally and for the first time ever, we have a Terry who speaks British English!). By the way, I have intentionally chosen a more adult voice for Candy, as she would be 26 years old when this scene took place.
Rose of Anzio takes place fifteen years after the end of The One I Love (long after the end of the Candy Candy Final Story). In the Rose of Anzio, the main character Tessa Graham, is how I imagined Candy and Terry's daughter would be. Her personality is reminiscent of Terry. The character Anthony Ardley was inspired by the character Anthony Brown in Candy Candy, who died too young and too soon in that story. It is my hope to create a new character in the spirit of the original Anthony, and to give him a much more fully-developed story that he deserves. Also, if you have read The One I Love, you will know that Anthony Ardley made his first appearance as a toddler in Chapter 30 there.
Here is a version of Anthony Ardley and Tessa Graham, representing them at the beginning of the story, as created by manga artist Loreley. Loreley has created many Candy Candy fanarts which are beloved by Candy Candy fans.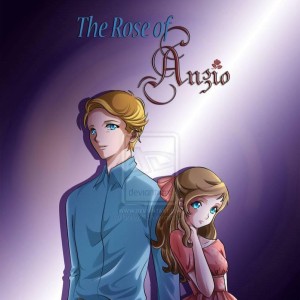 Unlike The One I Love, which was a fun, unedited fanfic, Rose of Anzio is a true historical fiction novel. If you liked The One I Love, I hope you will give Rose of Anzio a try. It would be fun for Candy Candy fans to spot the implied Candy Candy references.
Artist Elsa Papairous also created this fan version of Tessa in Book One ~ Moonlight, in her signature red dress which she wears for swing dancing on special occasions.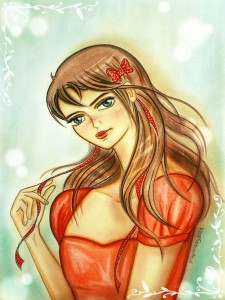 If you are a Candy Candy fan and would like to read the Candy Candy Final Story, it is available for purchase in Japanese. The official Italian translated version can be purchased from Kappalab. An unofficial Spanish translated version is on this Wattpad page.  An unofficial English translated version is on the CandyTerry Forum; however, you need to register and request for permission to access it.