Rose of Anzio Art
♦  ♦   ♦
Oil Painting by artist Nuria Márquez Almuiña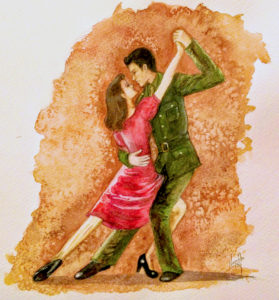 This is the scene of Jesse surprising Tessa by leading her into
a sensuous tango dance to the music Tango Jalousie when they first met in Naples.
The scene appears in Rose of Anzio Book 2.
_______
Military Art by graphic artist Jeff Brown
Jeff is an amazing graphic artist. The reduced-size images shown here do not do his work justice.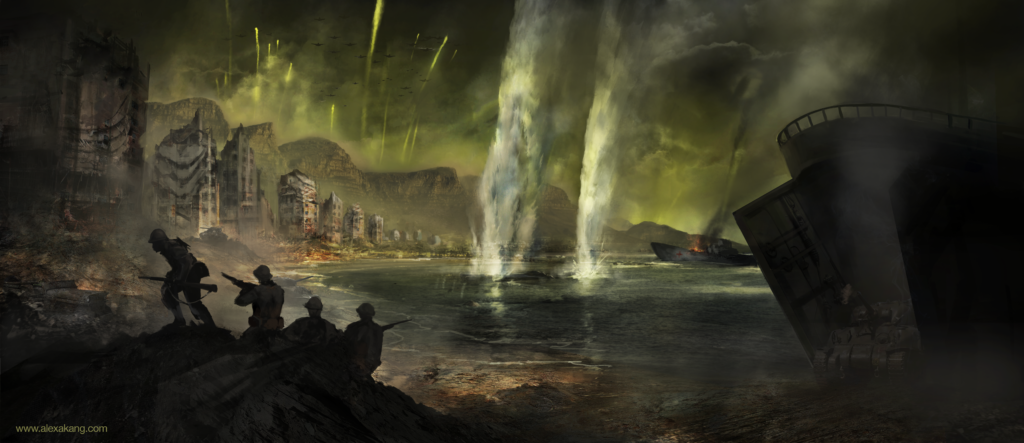 This is the scene of the German night raid on Anzio Beach as Tessa saw it in Rose of Anzio Book 3. The American nurses and soldiers who fought there had described the beach to be illuminated by an eerie green light, with explosions all around. A British medical ship was recorded to have been attacked and sunk during one of the raids in direct violation of the Geneva Convention.
♦  ♦  ♦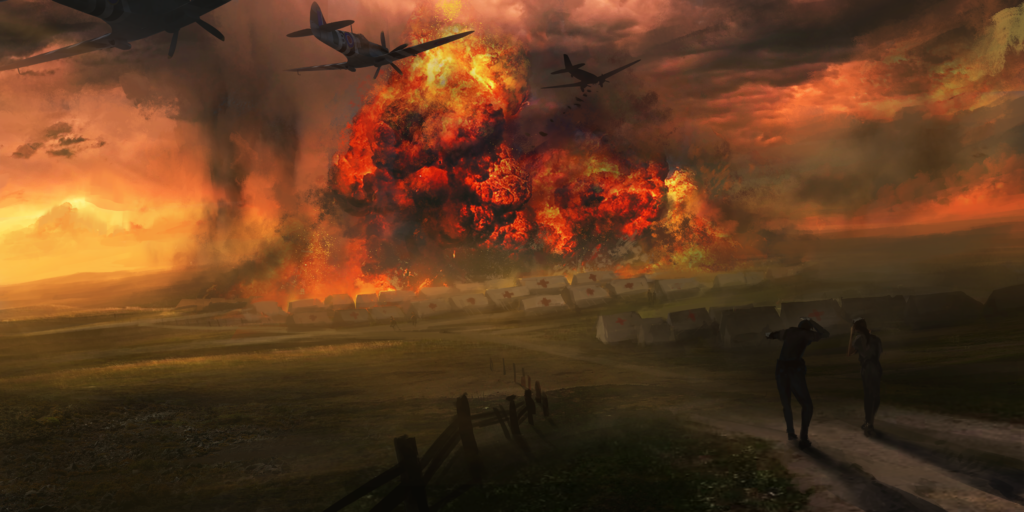 This is the scene of the bombing of the US Army 33rd Field Hospital on Anzio Beach
(a real historical event). In Rose of Anzio Book 3, Jesse and Tessa were in the midst
of an argument when the bombs dropped.
♦   ♦   ♦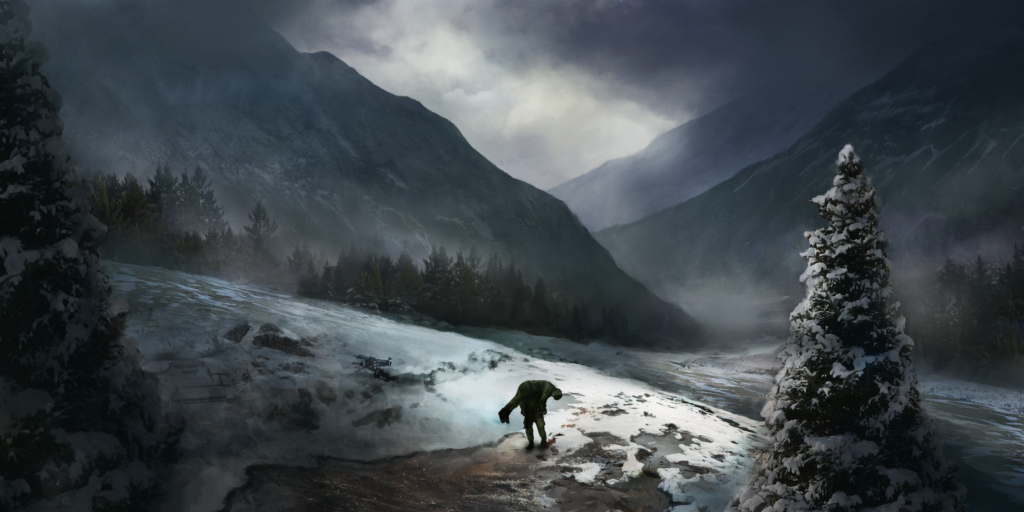 This scene is from Rose of Anzio Book 4, when Anthony fought in
the mountains of the High Vosges in Southern France.
_______
Fan Arts
I really love it when fans of Rose of Anzio send me illustrations of how the envision the characters in the story. I wish I could see how all my readers imagine Anthony, Tessa, and Jesse look like.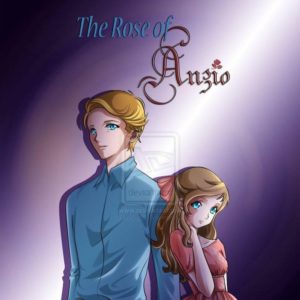 This drawing of was the first Rose of Anzio art ever made.  Here, amateur manga artist Loreley gives us her vision of Anthony and Tessa as they appeared in Book One- Moonlight.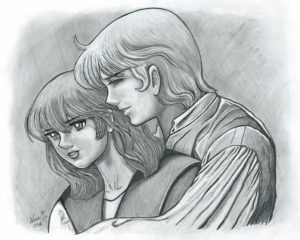 This is a sketch of Anthony and Tessa by Nuria Márquez Almuiña, who did
the tango oil painting of Tessa and Jesse above.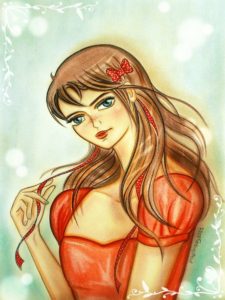 This is a colored sketch of Tessa from Book One-Moonlight by artist Elsa Papirous.
_____________
Manga Art
Before I started writing Rose of Anzio, I had worked with the Altabe Studio, an anime art studio in San Francisco on a different project. The owner and lead artist, Christine Chong, and I decided to adapt the scene of Tessa's departure from London in Book One-Moonlight into graphic art. Here's the result.
♦  ♦  ♦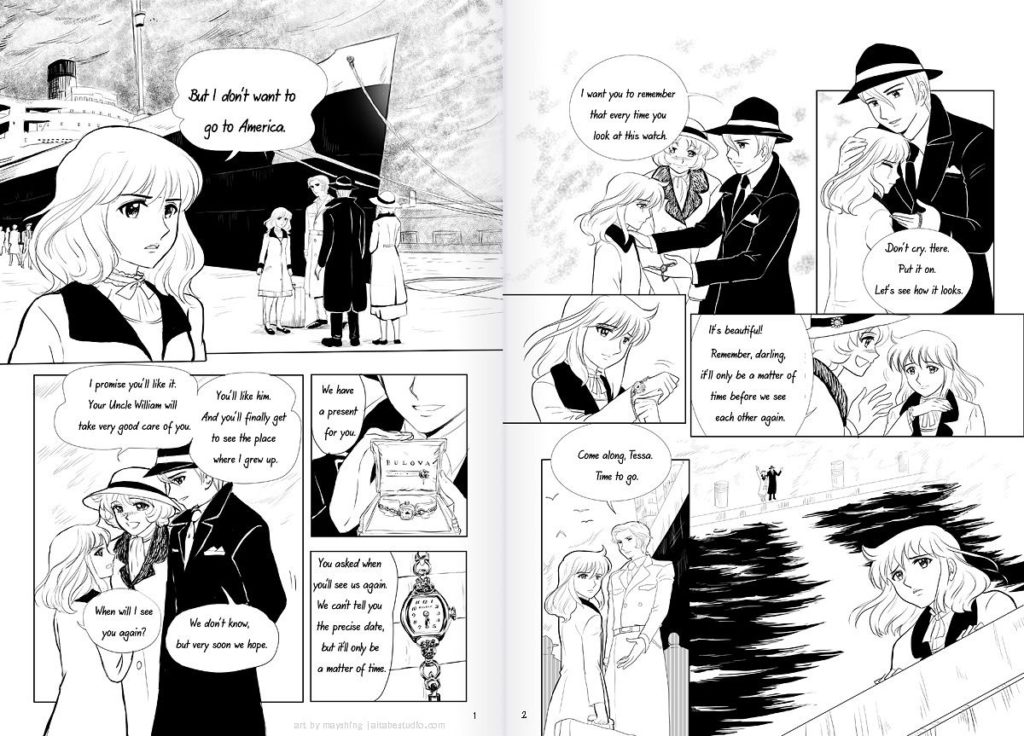 ♦  ♦  ♦
We even have a colorized version!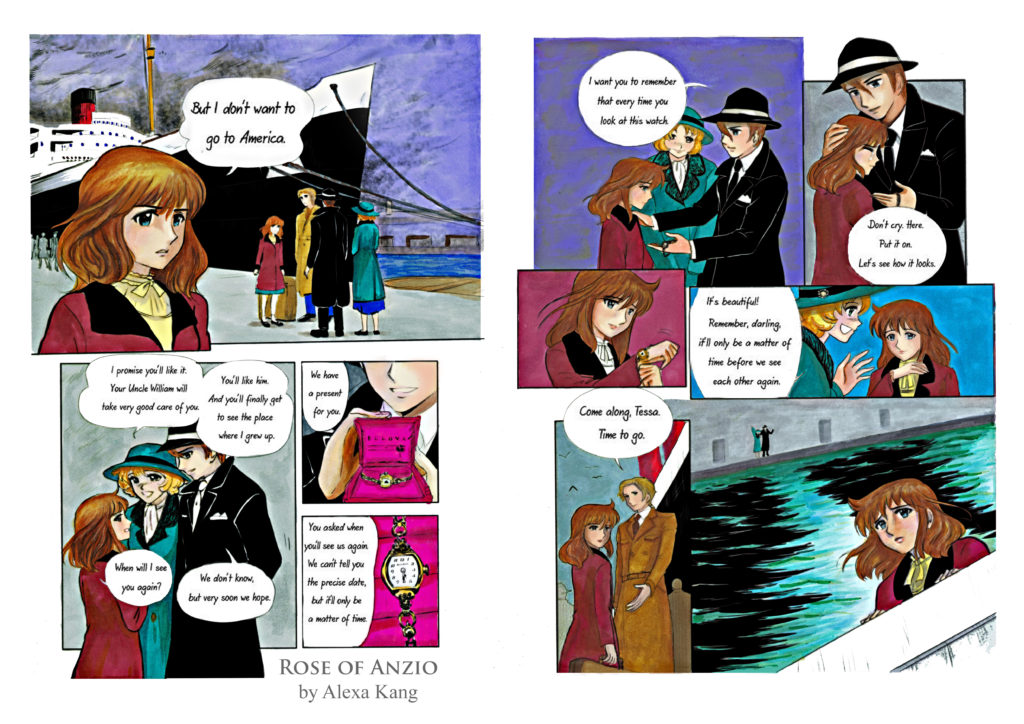 ♦  ♦  ♦